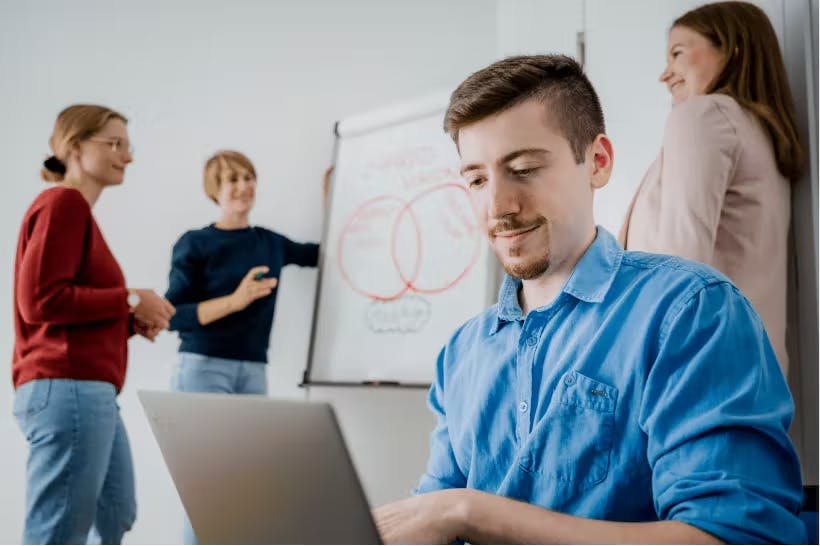 A new demand is haunting the corporate world. People want to be more active in the company. Does that mean they want to work even harder? Probably not. What seems to be important is how actively they can contribute as "whole people".
Knowledge is Power
Your personal values, right through to the company's social responsibility, should have a place. Topics such as improved communication and collaboration, mental health in the workplace, positive contribution to climate change and other social issues may play a role.
Over the next few months, we will be conducting research and asking employees and decision-makers how relevant and urgent the topic of workplace activism REALLY is.
YOU WANT TO JOIN?
Quantitative Study
What about such issues in your company? How important are they for you personally? How important should they be for decision-makers?
YOU ARE A DECISION MAKER / LEADER / BUSINESSMAN? In our qualitative study we ask decision makers:
To what extent is it possible for your employees to actively shape the company beyond their role and function?
To what extent is "Impact" and "Influence" actively demanded by your employees?
Are forms of workplace activism implicitly or even already strategically promoted at your company?
Where do you see the biggest challenges in managing and retaining Gen Y/Z employees?
Is ESG a strategically relevant field for you? If so, how do you involve your employees in it?
What do we need from you?
45 minutes of your valuable time.
What's in it for you?
Join Cutting-Edge Knowledge Creation now: The topic of Workplace Activism is virtually unexplored in Germany. However, our customers tell us daily about urgent challenges like: Employer Attractiveness, Quiet Quitting or ESG Visibility and Credibility. We want to explore how Workplace Activism can be an answer. We will conduct a quantitative study on employee level and interview decision makers from departments / divisions / companies / corporations across Europe. Be part of it now and get a place in our study.
Position yourself now on the topic of workplace activism: Use our conversation for social media posts, stories and dialogs with your employees. Encourage them to get active!
Get expert advice now and become a pilot customer if required: We will be happy to answer your questions in our conversation and afterwards with our team of experts. If you are interested in piloting our ACTIVATE THE BASE program, we will be happy to make you an attractive offer.
What do we mean by Workplace Activism?
Workplace Activism describes a form of activism that transcends one's own role and task in the company. "Activists" in the company get involved. They take responsibility. They provide support and followership within the team and beyond. They have for themselves the motto "No one can tell me which direction to be active in." They are a blessing to any company that manages to take advantage of this energy.
At Strasser and Strasser, we advocate Workplace Activism. We think it makes companies better and more attractive. They increase their performance. And they are more awake to the question of how the world as a whole can become a better place.
We look forward to participation, attendance and sharing.
Your Strasser Team
YOU ARE INTERESTED IN RESULTS?
Leave your contact details here
Posted by